Gratis Music
Free Violins, Free Lessons, Free Concerts
Gratis Music strives to spread a love of music by providing free violins and violin lessons to underprivileged communities. We also provide free concerts to those who seek the comfort of music.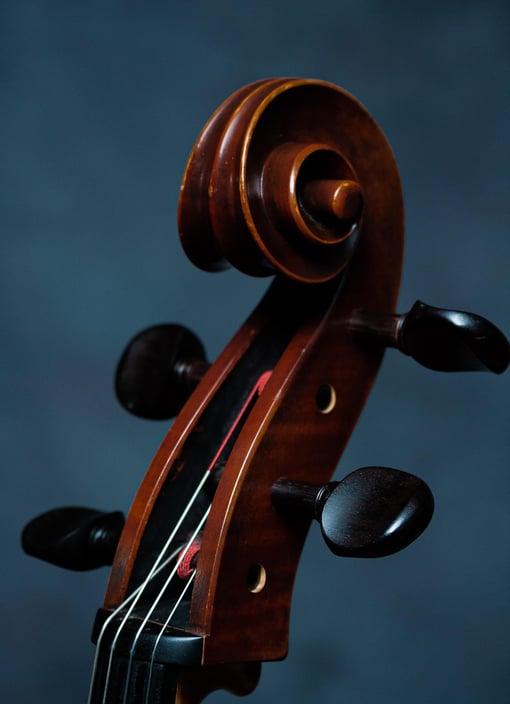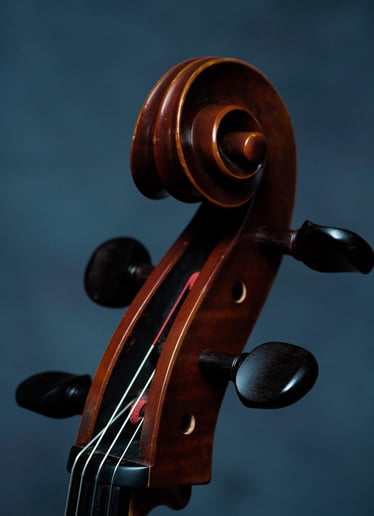 WHY WE ARE DOING THIS
Gratis Music would like to give back to the community by offering free beginner quality violins to those who may otherwise be unable to experience music for themselves. Many young children do not realize the extent to which music can shape their lives, so by providing violins to economically disadvantaged groups, we give them the opportunity to pursue music and discover its benefits.
Gratis Music is able to finance the free violins through music scholarships and competitions won by the founder Timothy Lee, as well as donations from other people. We also offer free local concerts to those who do not experience live music often, such as those in nursing homes, house charities, and homeless shelters. Through our work, Gratis Music invests in the younger generation and serves our community.
Gratis Music was featured on the local news network KOIN. Check out the article and video interview!
HOW IT WORKS
Get in touch to request a violin. Our goal is to make sure we provide violins to those who cannot otherwise afford one.
Gratis Music ships anywhere in the continental U.S.

Shipping is free!

The violin comes with a bow, case, and rosin.

Choose between 1/8, 1/4, 1/2, and 3/4 size violins.
Not sure where to start? Gratis Music is happy to provide guidance on choosing a violin size. You may also donate a used or damaged violin. We will pick up or send a prepaid shipping label and box to you. Then we will repair and re-donate the instrument back to the community.
About Us
TIMOTHY LEE: FOUNDER & EXECUTIVE DIRECTOR
Timothy Lee, 17, is a Senior at Aloha High School. He has been playing the violin for 12 years and currently studies with Carol Sindell. He has been a member of the Portland Youth Philharmonic for 9 years and has served as a Co-concertmaster for the past 3 years. Through his music, Timothy has a special heart for serving his community. He and his older brother have reached out to places like their church and local nursing homes since they were young. Recently, Timothy received a Certificate of Appreciation from the Korean Society of Oregon for his many musical services to the Korean community.
Timothy's musical journey began only through the help of a financial aid scholarship from his local community music center, which provided him with a free violin. This opportunity was a great blessing to him because it allowed him to experience the joys of music without a financial burden. As a result, Timothy founded Gratis Music in order to provide other underprivileged students with the same opportunity given to him. Through his work, Timothy hopes to sow the seed of music throughout his community.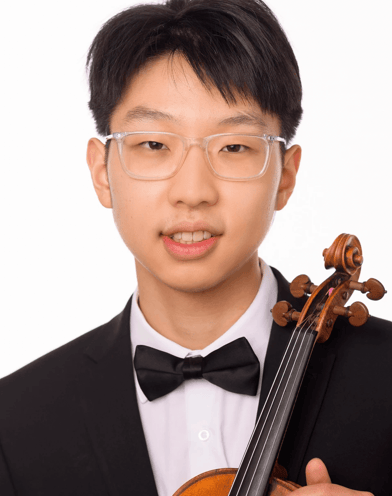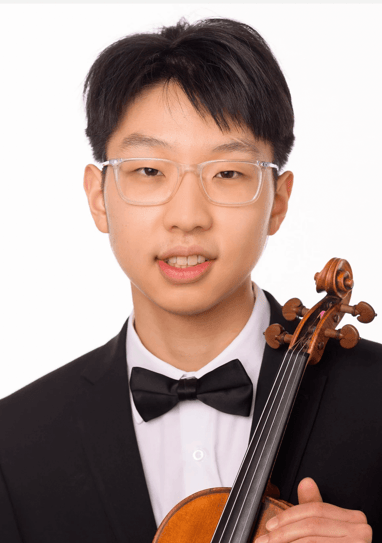 BOMI IM: PRESIDENT
Bomi Im is currently a junior attending Mountainside High School. She has been playing the piano since age 7. As Bomi progressed with her musical skills, she began teaching other young kids how to read music and play pieces at age 13. Bomi is now in her third year of teaching piano and assisting kids with their practicing after they get their lessons from their piano teacher. She has also used her musical training from piano to sing in the praise team for her church. Since the age of 8, Bomi has also played Korean traditional drums like Janggu, Buk, Jing, and Kkwaengari. During her free time, Bomi likes to listen to music and spend quality time with family and friends.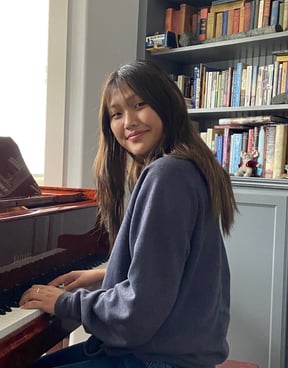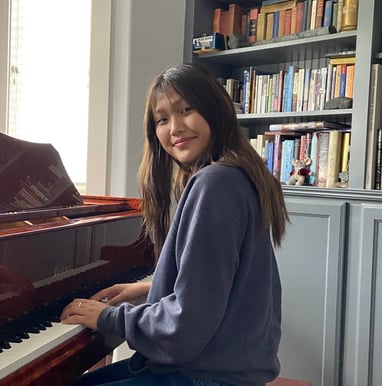 PAUL LEE: DIRECTOR OF MUSIC
Paul Lee, 18, is a freshman at Vanderbilt University and began studying the piano at the age of seven. He also picked up the violin 6 months later. Paul was selected as one of the winners of the 25th MetroArts Young Artists Debut! Competition. He also won alternate for Oregon MTNA Piano Competition. In 2020, Paul won 2nd prize in the PYP piano concerto competition. Also a violinist, Paul has won several violin competitions and soloed with the Beaverton Symphony Orchestra and the Jewish Community Orchestra. Paul has also been a co-concertmaster of the Portland Youth Philharmonic. His passion is to serve others through music. For example, with his brother, also a pianist and violinist, he has served the community through his church, nursing homes, the Korean Society of Oregon, Portland Rescue Mission, the Ronald McDonald charity home, and the Wilsonville Korean War Memorial.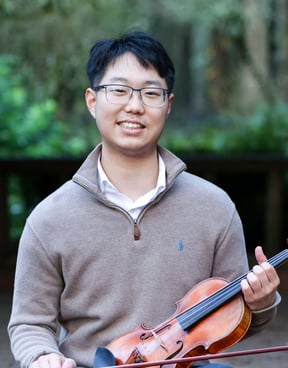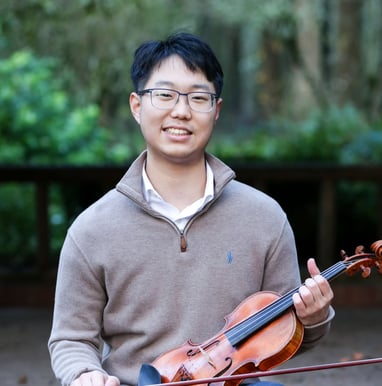 MARCUS SONG: DIRECTOR OF EDUCATION
Marcus Song is currently a sophomore attending Lake Oswego High School. He recently accomplished Syllabus Level 10 in piano which he had been working on since 3rd grade. Marcus has also been playing the violin since 3rd grade and is a member of his school orchestra. In addition, he has achieved a black belt in taekwondo and is the current secretary of his school's Key Club. Marcus loves to play tennis recreationally and enjoys constructing things including Gundam figures. When he wants to relax, he loves to play the piano or lie down on his bed while listening to his favorite songs.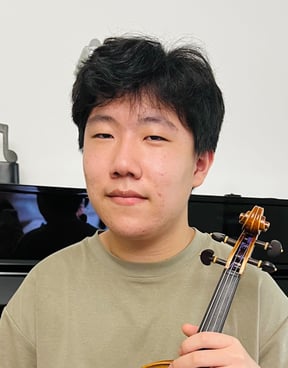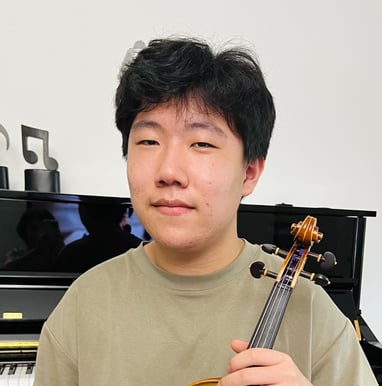 BRANDON DIMIT: DIRECTOR OF OPERATIONS
Brandon Dimit is currently a senior at Silvies River Charter School. His involvement within school includes being a member of the Quiz Bowl team. Also an avid athlete, Brandon is a varsity track and cross country runner, as well as a duathlete. Outside of his school, he is a Senior Patrol Leader in the Boy Scouts after many years involved in the organization. Brandon is also a Priest Quorum Advisor and a Temple and Family History Consultant for his church. Brandon currently works at an emergency supplier shipping company, and in his free time, he loves to give back to his community by volunteering at his former elementary school.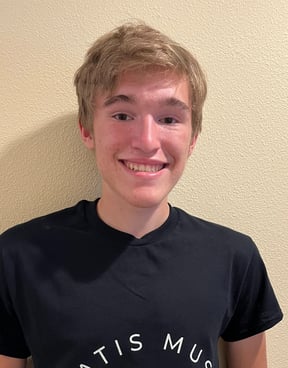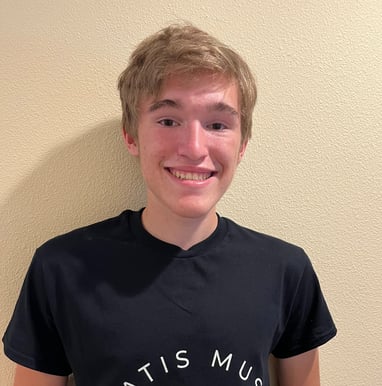 AKSHHAT KUMAR: DIRECTOR OF FINANCE
Akshhat Kumar is a senior at Aloha High School. He is currently the secretary of the Science Ambassadors program at Aloha, a STEM mentorship program that provides students with the opportunity to teach 5th graders about science through interactive experiments. At his high school, Akshhat is also a member of the Constitutional Law team and the National Honor Society. After school, Akshhat works part-time at McDonald's and volunteers at the Beaverton City Library on his days off. When he has free time, Akshhat loves to do math and play chess for fun.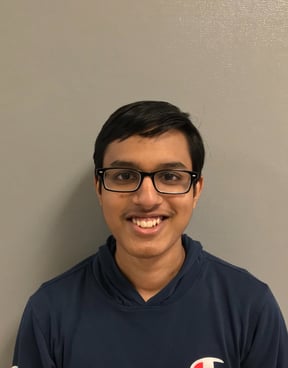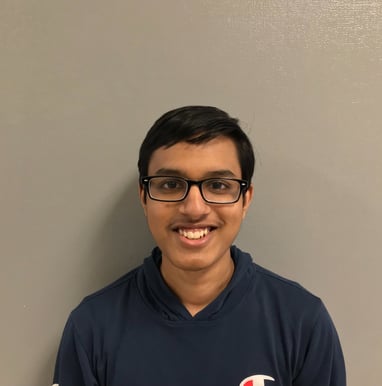 JOSIAH PRICE: DIRECTOR OF DEVELOPMENT
Josiah Price is a 17-year-old senior from Hillsboro. He has been playing violin for eleven years and currently studies under Carol Sindell. Josiah joined the Portland Youth Philharmonic Association in 2016 and was named concertmaster of the Young String Ensemble in its 2016-2017 season, concertmaster of the Portland Youth Conservatory Orchestra in its 2018-2019 season, and is now in his fourth year playing for the Portland Youth Philharmonic. He has participated in many MTNA/OMTA events and received numerous awards in the OMTA Ensemble Festival and the MTNA Solo Competition. Josiah has also participated in many chamber music groups which include Chamber Music Camp of Portland, the YSE String Quartet, the PYCO String Quartet, Haystack Music Camp, and is in his third year participating in Camerata PYP. He is also currently playing in one of the PYP String Quartets. In addition to the violin, Josiah loves playing tennis.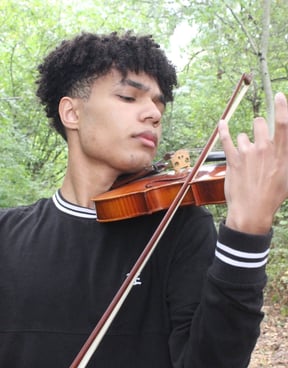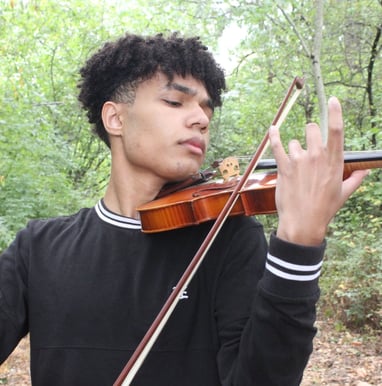 ESTHER EOM: INSTRUCTOR
Esther Eom is a sophomore attending Mountainside High School. She has played the violin for 8 years and currently studies with Carol Sindell. Esther recently moved to Oregon from New Mexico and is now a member of the Portland Youth Conservatory Orchestra. In New Mexico, she performed and competed with her school's top orchestra. In her life, Esther is always looking for opportunities to use music as a way to help the community.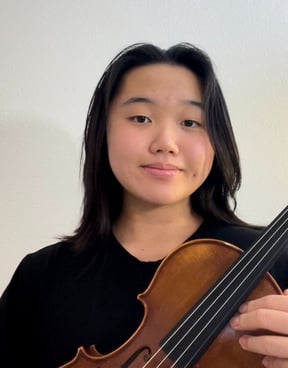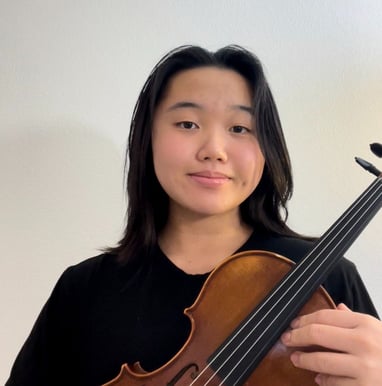 Thank you so much for visiting the Spokane Tribe of Indians Children of the Sun Head Start! Your performance was fun, beautiful to listen to, and was enjoyed by all. Your generous gift of the violins along with the time you spent teaching them to play the instruments is very much appreciated. With gratitude from our entire school.
- Head Start
This violin has led to a wonderful and complicated journey of self. My son was so in awe of Tim's ability to "feel" into the Star Wars theme song, it became an entry point to his interest in not just the instrument, but music itself. "I can do hard things" he declared. I have never been so proud of his alacrity and dedication, and never more appreciative of Gratis Music for being "instrumental" in creating such an important and fundamental teaching moment. So many MANY thank you's!!!!!
- Tracy
"Music can name the unnameable and communicate the unknowable."